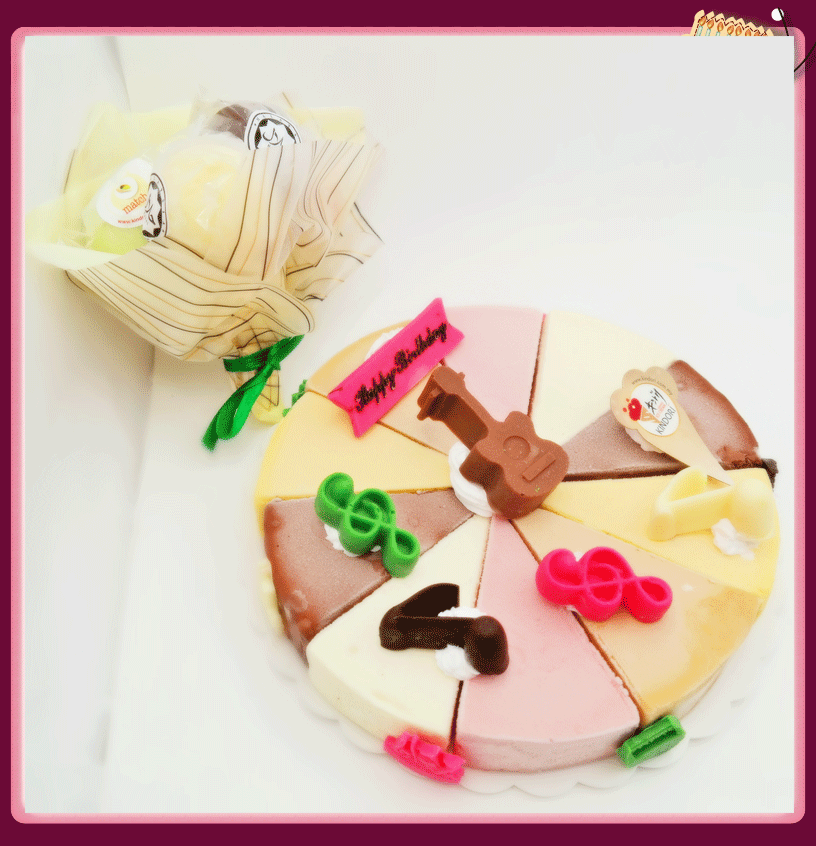 Music 5 in 1 Perfect 10 Pure Ice Cream Cake + 5 sticks Ice Cream Lollipop with Mini Hand Bouquet Decor
5 in 1 Perfect 10 Pure Ice Cream Cake plus 5 sticks ice cream lollipop with mini hand bouquet decor.
Available select one from 2 composition series:
Flavor 1: Vanilla + Strawberry + Sumiyaki Coffee + Jackfruit + Chocolate
Flavor 2: Matcha + Sweet Corn + Mango + Coconut Peanut + Mint Chocolate Chip
Require minimum 3 days booking prior to delivery.
Special 1" height pure Ice Cream Cake that already per-cut to 10 slices ready for servings with 10 sticks ice cream lollipop with hand bouquet decor(mix 5 flavor)
Cake Weight: 0.5KG
If some flavor listed above are out of stock, we will replace with another flavor.

The cake flavors are not allowed to change as it is pre-joined during production,

After Checkout your order, under Checkout Option in Delivery Method section, you can write down your preferred ice cream lollipop flavour (i.e. 5 Sweet Corn, 5 Matcha lollipop, & 5 Vanilla lollipop etc.) in

"Remark"

column.

Available flavour for Ice Cream Lollipop:
Black Sesame
Sweet Corn

Dark Chocolate

Mango

Matcha

Mint with Choc Chips

Strawberry

Sumiyaki Coffee

Vanilla

Coconut Peanut
Or

you can direct call/ whatspp us at H/P: 017-641 5778 to verify the lollipop flavour

100% full ice cream WITHOUT single layer of chiffon cake inside.
Natural Japanese recipe.
No added colourings or preservatives.
Includes 1 set of plastic knife for each set of ice cream cake.
Delivery service include Klang Valley, Selangor, Melaka, Ipoh, Penang & Johor Bahru (vary charges applicable to different destinations).
Online Payment can be made by Direct Debit, Credit Card or Online Banking Transfer method by selecting eGHL payment gateway (a secure internet payment methods with no additional charges being imposed).
Product picture shown is for illustration purpose only. Actual product may differ from the displayed picture in term of decorations.